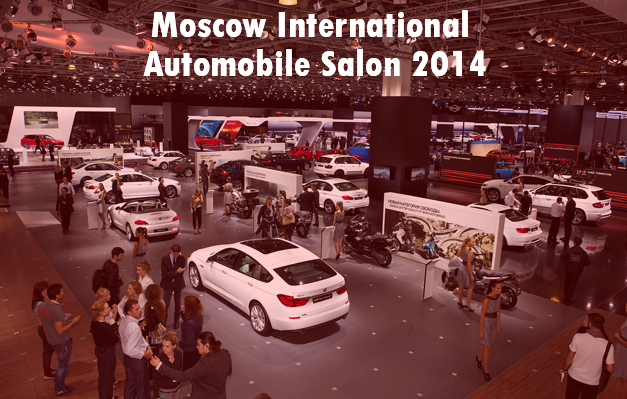 A list of international and domestic auto makers including BMW, Renault and Land Rover are making a significant presence at the show
Moscow International Automobile Salon 2014 started yesterday and will open for public till next week where almost all major brands and world's leading automakers are participating with their latest model and concepts. As our team of automotive journalists entered the Moscow International Automobile Salon centre, by looking at the cars displayed, they have judged that this year's show is specifically focused on growing SUV market segments. The Moscow International Automobile Salon 2014 is providing the platform for European enthusiasts to see Land Rover Range Rover Sport SVR for the first time.
This 542bhp Sport version made its first public appearance at Pebble Beach Concours d'Eleganza in California a few weeks ago. It is powered by an updated Range Rover Engine which is a supercharged 5.0 Litre V8 unit. This specific engine is highly efficient and well capable of pushing the whole package to the top speed of 162 miles per hour.
Chevrolet is the next major brand seen on the floor of Moscow International Automobile Salon, showcasing the Niva SUV concept; it is a next generation SUV which is likely to go on sale in 2016. A few steps away from the Chevrolet's Niva concept, a local marque Lada is occupying the place to present couple of new designs and concepts as Lada has announced  reinvention of its entire business.
BMW is also there with its most fascinating and special X5 Armour that offers the protection against automatic gun fire from rifles like AK47. It offers protection standards up to VR6. The all new X5 is based on xDrive50i and is exclusively powered by a 4.4 Litre V8 engine of 449bhp. If you want the protection against VR6 class Armours then you have to pay almost three times of a standard model, which is almost £160,000.
Nissan's GT-R NISMO is also on the Russian tour and it is the very first Russian tour for this beauty. It is already in the UK and we have found it to be expensive, beautiful but remarkably fast machine. A 62 miles per hour mark in just 2.6 seconds because of a 3.8 Litre twin turbocharged V6 Nissan Engine which develops 591bhp.
Toyota Camry and Peugeot 508 are also joining the party however it is the first public appearance for Peugeot 508 as an updated rival to Ford Mondeo with fuel economical engine range.
The following two tabs change content below.
Robert Harrison contributes regularly to Car Engines Blog. He claims to be crazy about cars.