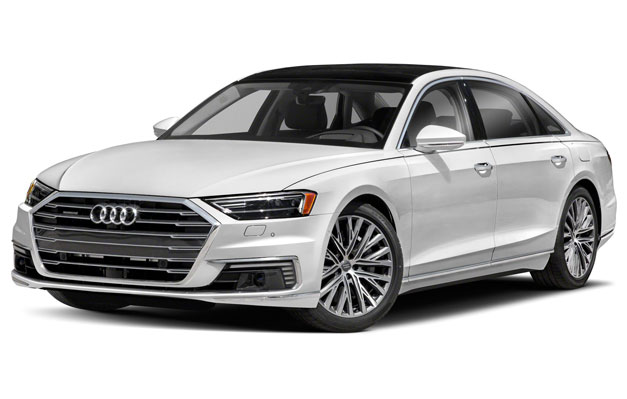 The Audi A8 is a shining illustration of Audi's level of excellence
Audi is a major player in the car business. Its goods are one-of-a-kind in terms of design, performance, and style. Audi has utilised cutting-edge technology, distinctive design, and powerful engines in its vehicles to provide excellent value to its loyal customers all over the world.
The Audi A8 is a shining illustration of Audi's level of excellence. The Audi A8 is a large saloon with a beautiful appearance, a luxurious cabin, and flawless performance. It provides exceptional comfort, smoothness, and opulence. Its main competitors are the BMW 7 Series, Mercedes S class, and Jaguar XJ saloon. The Audi A8 is a fantastic blend of technology and aristocracy.
Overall, the features are exceptional, with a fantastic appearance and usefulness
The models in the United Kingdom have all they need to please their customers in the United Kingdom. There are sat-nav, Bluetooth connectivity, WI-FI hotspot, Apple Car Play, Android Auto, Wireless Charging, USB and AUX inputs, B&O 3d advanced sound system, digital TV reception, HD Matrix LED headlamps with Audi laser light and O-LED rear lights.
Not just this but also you can have night vision assist, three sixty degrees outer view camera assist, air quality package with ionizer and fragrances to improve the air quality, electronically controlled suspension, and reach adjustment system is available in it. The safety features are also outstanding. Airbags with side curtains and knee protection are standard. Exclusive safety equipment is employed in this large luxury vehicle.
Engines are restricted, but they function quite well
There are two high-performance engines: a 3.0-litre TFSi Hybrid and a Diesel/Electric Hybrid. The best selection of the day is a Diesel/Electric Hybrid engine with 281 horsepower and 444 pound-feet of torque, as well as a long-wheelbase frame. In terms of production, it's a classic. Moreover, you can have reconditioned Audi A8 engines all across the country from all reliable engine dealers.
It takes 5.7 seconds to accelerate from 0 to 62 miles per hour, with a peak speed of 155 miles per hour. It has an extremely low fuel consumption of 50m/g and emits just 145g/km of CO2. It has an eight-speed automatic transmission and all-wheel drive. It's a standard V6 engine that delivers excellent performance while being quiet and smooth.
Exterior and interior design are both outstanding
The Audi A8 is a large saloon with two wheelbase options. In terms of look and inside, both are exceptional. Audi offers a well-appointed interior but lacks a classy appearance. Its low frame body construction, sides, front hood, rear, and roofline are all fantastic to feel and look at.
It has the most opulent cabin in its class, with a fantastic seating configuration. It features large leather-covered seats that embrace your hips. The dashboard is well-designed. It's nice to be in the interior because it's large and open. A long wheelbase frame provides plenty of extra space while still being quite practical.
Stunning and opulent design
A vehicle with opulent styling that is also fuel-efficient. Audi A8, a fantastic German automobile manufacturer, is the vehicle you're looking for. So, without further ado, let us have a look at the masterpiece that is the Audi A8. A cost affecting option of used Audi engines makes it even loveable.
Audi's deal to provide chauffeur-driven cars to many of the UK's biggest events hides it in the margins of those wide camera shots outside the awards ceremonies; stars disgorged onto the red carpet from its back seats, all thanks to Audi's deal to present chauffeur-driven cars to many of the UK's biggest events.
Certainly, its unobtrusive, near-anonymous appearance makes it the ideal vehicle for people who want to glide around in the lap of luxury undetected. The younger, fresher Mercedes-Benz S-class and BMW 7-Series, on the other hand, are serious competitors for the A8.
What does the inside of an Audi A8 look like?
The A8's dashboard is very old today, and you can tell on the interior, where it has a dated-feeling entertainment system that requires a complex array of buttons, touchpads, and knobs to operate. It also doesn't help that the menu structure isn't particularly user-friendly. The instrument binnacle, which is lacking in neatness, also reveals Audi's age. Instead, a large amount of information is shown in a single place, which might appear disorganised.
While the A8's cockpit isn't the most user-friendly, it's beautifully designed, with high-quality materials throughout and a soothing atmosphere. Have you ever attempted navigating a navy battleship through a canal? No, probably not. If we're being honest, neither have we, but the thought of it should give you some idea of what it's like to attempt to get an A8 through a width limit.
A Massive Vehicle
In other words, it's not a little car, and its size and length make it difficult to manoeuvre through congested streets. It doesn't help that the steering is sluggish and might behave with more lock while being light and simple to spin. Furthermore, if you just poke the throttle too hard, the automated (non-manual) gearbox – which comes standard on every model – may get agitated, causing the car to change down bumpier than a BMW 7-series or Mercedes S-class. Big limousines may be thrilling to drive, as the BMW 7-series demonstrates, but the Audi A8 isn't quite as entertaining. That's not to say it's completely at sea in curves – far from it, to be honest – because all of the versions have four-wheel drive, which gives them plenty of grips.