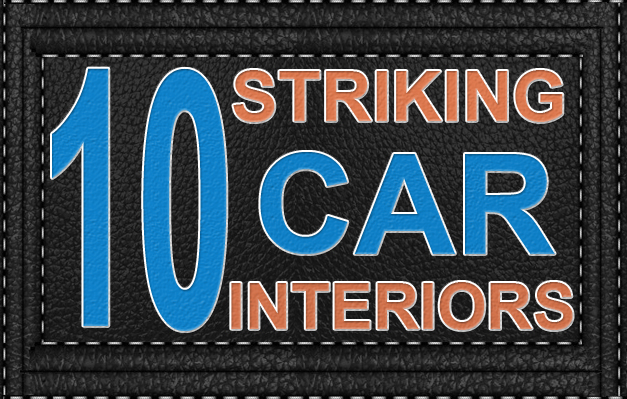 Interior is an important factor when you make a decision to buy a new car, auto manufacturers pay much attention to make sure that they offer the best within the budget. Ever wondered how it is like to be inside a car that costs much more than a normal car. Here at Car Engines, we have compiled a list of some luxury interiors in the form of infographic that you might find interesting.
10- 2014 Kia Soul Connect+                                           From £15,500
Kia Soul Connect+ is a stylish vehicle, from both inside and out. While Soul's weird design has been enhanced to make it a more city friendly vehicle, its cabin is roomy for most part while tall passengers can face some problems while on the back seats because of inferior leg room. Soul's interior has some colourful variations in the trims with colour matched stitching, colourful speakers with changing coloursand looks inspiring at night. Further features include;
Engine: 1.6 CRDI
Power: 126 HP / 192 LB-FT
Transmission: 6-Speed Automatic
Technology: Cruise control, auto speed limiter, DAB Audio, Electronic Stability Control (ESC), Vehicle Stability Management (VSM), Multifunction Steering, 8″ Touchscreen European SatNav
9- 2014 Mazda 3                                          from £16,945
The brightened up Mazda3's cabin feels lustrous and up to date with a lovely design and fashionable equipment. It basically gives a fight to much expensive cars. It has very comfortable seats and there's enough room in the cabin to comfortably sit in the rear. A four-speaker stereo, USB and auxiliary inputs and push-button start comes as standard on the base Mazda3. There are several optional features available such as keyless entry, navigation, Bluetooth audio and phone connectivity, dual-zone automatic climate control, cruise control, and a nine-speaker Bose sound system. Other features include;
Engine: 1.5L L-4
Power: 99 HP / 110 LB-FT
Transmission: 6-Speed Manual
Technology: Electronic Power Assist System, USB audio/iPod connectivity, 7″ TFT colour touch-screen, Dynamic Stability Control, Traction Control System, Emergency Stop Signaling system, SKYACTIV-Body, Secondary Collision Reduction,
8- 2015 Volkswagen Golf GTI                              from £25,845
Visually, the base car maintains the same GTI essentials as the Performance Pack, roof spoiler, cloth tartan interior and loads of safety tech as standard (intelligent cruise control, emergency braking and automatic post-collision braking) that makes it go down 5 insurance groups over its predecessor. One trivial lapse is the absence of standard sat-nav system, while the entry-level navigation system isn't classy, but 'Discover Pro' has class leading 3D map display for some extra money. Golf gets the good-looking 5.8in touch screen with an integral DAB digital radio tuner and eight speakers, however an eight-inch display and a Dynaudio sound system with 10-channel digital amplifier is also available as option. Further highlights are as follow;
Engine: 2.0L L-4
Power: 217bhp / 258 LB-FT
Transmission: 6-Speed DSG
Technology: Drive Alert System, Pre-Crash Safety, Isofix seats, Multi function steering and Dual Zone Climatronic System. Multi device recognition interface, Discover Pro navigation system,
7- 2015 Chrysler 300C                                           from £30,020
The 300C interior offers ultra-soft 100% NAPPA leather trims for seating surfaces. Gorgeous finishes and premium materials have been used in the 300C to ensure you always get the feel of being at home in your 300C.
Resourceful technology flourishes all over the vehicle, keeping you attached and relaxed. In fact riding the new 300C is a joyful experience. Further tweaks include;
Engine: 3.0L V6
Power: 236 HP / 399 LB-FT
Transmission: 5-Speed Auto
Technology: Customer Defined Display Monitor, Active Pedestrian Protection, All Speed Traction Control, Anti-Lock 4-Wheel Disc Performance Brakes, Forward Collision Warning System, Blind Spot Monitoring System, Keyless Go.
6- 2014 Jeep Grand Cherokee                 £37,740
The stylish new Grand Cherokee model features a more luxurious and appealing interior with finest grade Natura Plus leather-trims and heated seats with edge welting, sophisticated suede-like first-class headliner, striking open-pore wood accents with exclusive copper trim or chrome trim accents. Further features of Jeep Grand Cherokee are listed below;
Engine: 3.0L V6 Diesel
Power: 250 HP / 420 LB-FT
Transmission: 8-Speed Auto
Technology:  Vehicle Speed Control, Electronic Stability Control, friction detection and downshift detection, Blind Spot Monitoring (BSM), Advanced Brake Assist (ABA), Uconnect® System, 8.4-inch touchscreen, Selec-Terrain® system, Quadra-Lift® system.
5- 2014 GMC Sierra Denali                                   £38,444
The all-new Sierra Denali is geared up for any driving circumstances. The all-new variable driver display keeps you linked to your truck. Further tweaks include;
Engine: 5.3L Ecotec3 V8
Power: 355 HP / 383 LB-FT
Transmission: 6-Speed Auto
Technology: Nuance perforated leather-appointed front seats, Heated steering wheel, Bose® surround sound system, Automatic Locking Rear Differential, StabiliTrak, Stability Control System, Customizable Driver Display, 8″ multi-color
4- 2014 Hyundai Equus Ultimate                      £49,600
Equus has an impressive interior than the insipid sheet metal. The shape of the instrument panel is far more stylish, with a superior 9.2 inches, up from 8in infotainment screen, enhanced and integrated into an enfold of wood and metal. The whole interior  is less plasticky than ever before, and several controls are on the new steering wheel. The all-digital instrument panel can change its background colour according to the drive mode selection. Additional features include;
Engine: 5.0L V8
Power: 429 HP / 376 LB-FT
Transmission: 8-Speed Auto
3- 2014 Chevrolet Corvette Stingray                from £64,500
The interior of the 2014 Corvette Stingray has also been substantially upgraded from the C6. Improved materials, more modern design, and significant upgrades to technology such as the Drive Mode Selector and latest-invention Chevy MyLink infotainment facilitate the Corvette on balance with European and Japanese offerings in the highly aggressive, but comparatively low-number super sports car sector.
Engine: 6.2L V8
Power: 460 HP / 465 LB-FT
Transmission: 7-Speed Manual
Technology: Electronic Limited-Slip Differential, Corvette Racing-inspired air vents, Michelin Pilot® Super Sport® ZP tyres, Magnetic Selective Ride Control, worlds' fastest-acting suspension
2- 2014 Mercedes-Benz S550                             £92,508
Every single bit of the S550 feels handmade. Every piece of metal senses like it was pulverized just for the S550, out of one unyielding portion and then positioned in the S550 with mind by one mature, skillful German craftsman. Every element of it feels enjoyable, like the tiny push buttons to adjust the vents or the window controls or the button to control the COMAND system, the whole stitched dashboard. All of it, and many more.
Engine: Twin-Turbo 4.6L V8
Power: 455 HP / 520 LB-FT
Transmission: 7G-Tronic Plus
Technology: Burmester® surround sound system, Warmth Comfort Package, Luxury automatic climate control, Active Bonnet, Pedestrian Safety Measure, Electronic Stability Programme, Sophisticated Entertainment System.
1. 2014 Rolls-Royce Wraith                        £235,952  
Open the doors of Eden on wheels and stair into an alluring interior that hush you up from the external atmosphere. Every element has been carefully crafted; from the premium natural grain leather to the spongy wool carpets, but this is a vehicle made for energetic riding. Wraith's agility, swiftness and refined power can be felt by looking at the blood red pointers in the speedometer. The roomy four-seat interior has been entirely hand-crafted by experienced craftsmen and expert technicians. It offers candle paneling in the open grain wood all over the cabin. The veneer is skillfully bowed around the doors and every piece is adjusted at 55 degrees. This forms a wonderful mirror reflection through the centre line of the car.
Engine: Twin-Turbo 6.6L V12
Power: 624 HP / 590 LB-FT
Transmission: 8-Speed Auto
Technology: Intelligent Drivetrain, Satellite Aided Transmission,
The following two tabs change content below.
Robert Harrison contributes regularly to Car Engines Blog. He claims to be crazy about cars.